Length, shape, color
Long nails promise to be the main hit of the season. Oval and pointed, with drawings, patterns, gradients and other design options - there is plenty to choose from and how to surprise your friends.
For a business dress code or wedding manicure, an almond-shaped classic or a rounded square that resembles a natural shape is suitable. If you want to attract attention, your choice is pointy nails.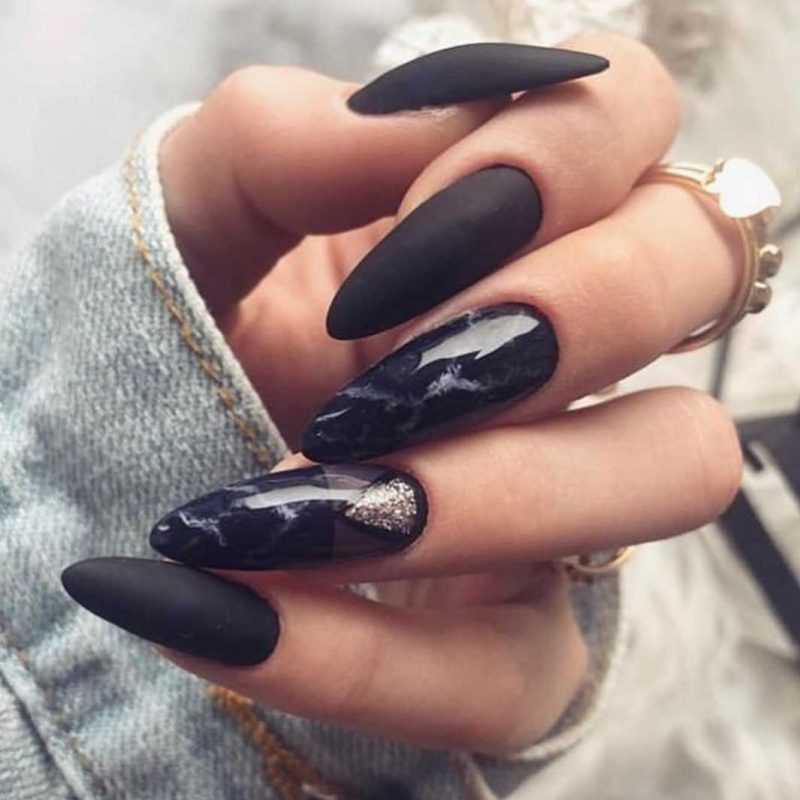 The relevance of the shades is dictated by the season. Cold colors are suitable for winter: deep green, a palette of blue or gray.
Gradient is a new boring trend in winter nail art. The ombre effect looks stylish on short and long nails. You can distribute several colors on one nail plate or choose a tone for each nail.
Short nail manicure ideas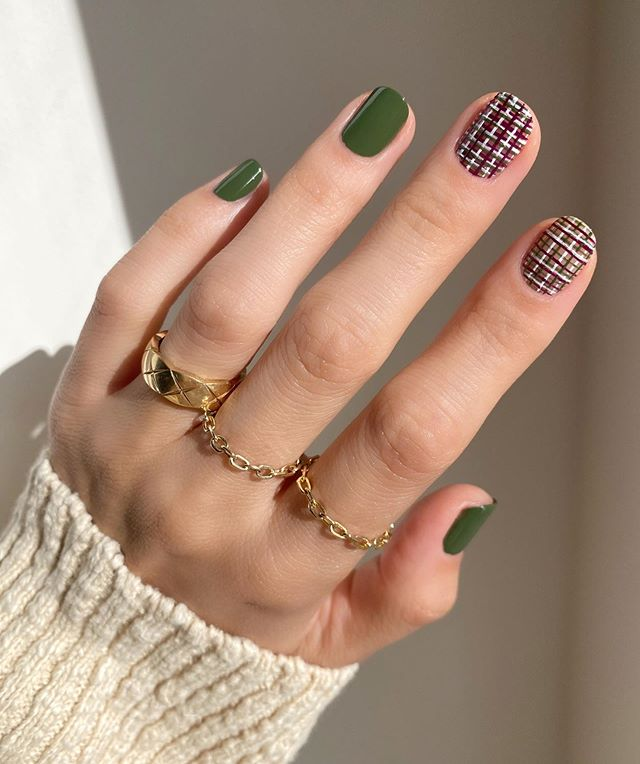 Light pastel colors look feminine and childish. Feel free to choose any shade from light peach to pale pink. A miniature drawing on one or two nails will add zest to your manicure.
A dark palette is another win-win. You can liven up eggplant or black with vertical or horizontal contrasting lines, sparkles or mica.
For fans of unusual nail art, we recommend coating using the "brush strokes" technique. The combination of several colors and textures will make your nails a real work of art.
Scarlet shades are always a classic. Any shade from coral to burgundy is relevant. Matte finish, dots or writing on one finger add a stylish touch.
Unfading French manicure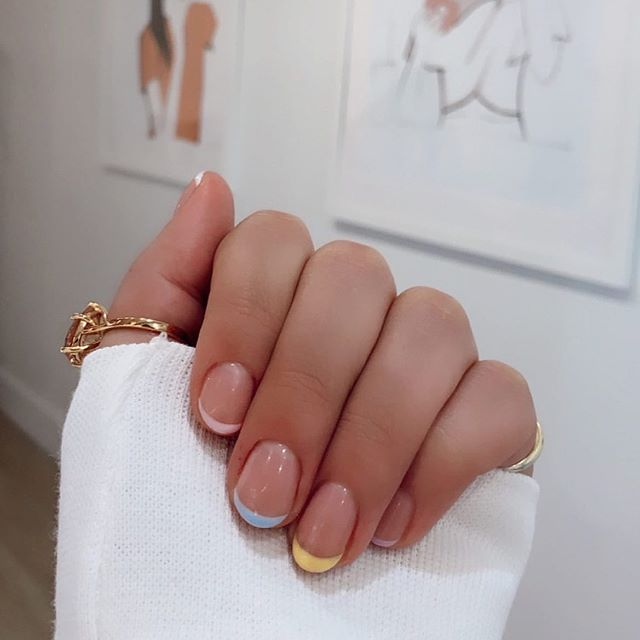 A beige, flesh-colored, pale pink or cream base combined with a contrasting free edge will suit any nail length. A classic french manicure with a white or black "smile", narrow and wide edging, made using the gradient technique, is relevant. Also in fashion:
Double french manicure - staining not only the contour of the nail, but also the hole.
Bright triangular tips instead of an oval white stripe.

Side French manicure for long nails, which visually narrows and stretches the nail plate.
Microfrench with a barely perceptible line on the edge of the nail, which has already been demonstrated on Instagram by Kourtney Kardashian and Rosie Huntington-Whiteley.

French nail art - unusual patterns, animal and plant prints on a beige canvas.
For fans of minimalism, we recommend paying attention to the monochrome matte-glossy french manicure. The main rule: the shade of the foundation should match the tone of your skin.
For the party
Glittering accents on nails will make your look bright and memorable. Choose the color of the coating depending on your mood, and use glitter, rhinestones or mica as decoration. A great option for a party - silver and gold intersecting lines, triangles at the base of the nail, neon gradient, "moon" manicure with an unusual shape of holes (diagonal, triangular, double, oval), a combination of matte and glossy textures.
Actual ideas for a pedicure
If you are a fan of the same style in manicure and pedicure, consider the design options so that the design does not look boring. Ombre, delicate nude and metallic are in trend. Take on the negative space technique or add accents with rhinestones. A universal option is a white gel polish, which can become the basis for graphic design, sticker sliders or other nail art.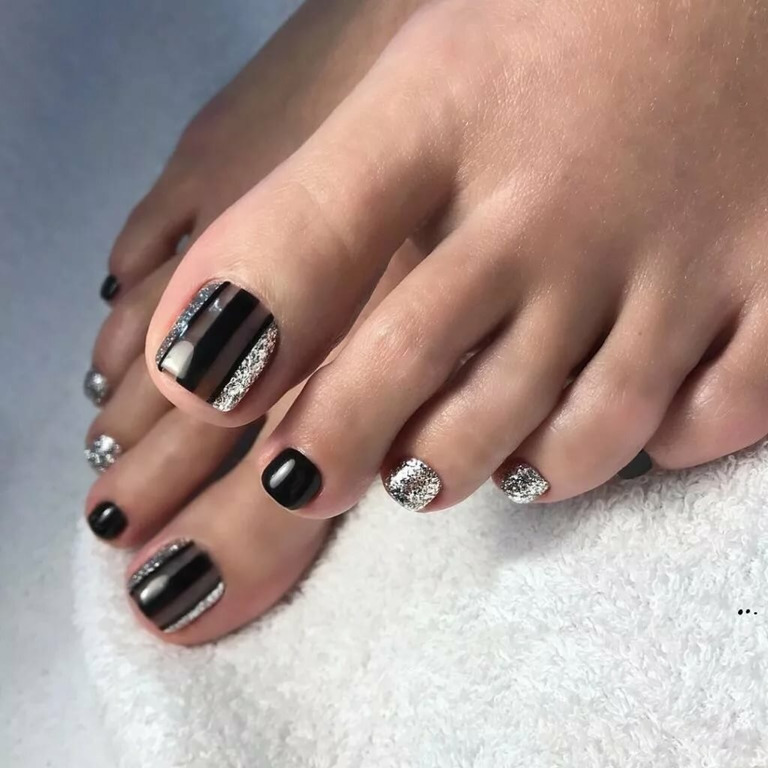 If you want to leave the experiments for the summer, choose the understated classics. An excellent solution is a jacket, a monochromatic pedicure with a marble or geometric pattern on the big toe, or a colorless nail polish. Saturated shades also do not give up: we recommend glossy blue, Marsala, chocolate, as well as charcoal black in matte finish.
Salons of the shopping center Gulliver
Entrust your manicure to the masters of beauty salons of the shopping and entertainment center "Gulliver", located in the Pechersky district of Kiev near the metro stations "Ploschad Lva Tolstoy", "Palace of Sports" and "Klovskaya".
Beauty Salon "Beauty Garden" offers a full range of nail services. Experienced masters will make a manicure of any complexity and make your wildest ideas come true.
The Scissorhands beauty bar offers all types of nail services in a pleasant atmosphere and relaxing music. High-quality shellac from American and European manufacturers guarantees a long-lasting finish and a stylish result.
The Nail's Bar manicure salon offers all types of manicure and pedicure: from shape correction to nail extension.
The best salons of Ukraine are waiting for you in the Gulliver shopping and entertainment center. Don't be afraid to experiment. Find your style in a cocktail of trendy nail art trends.