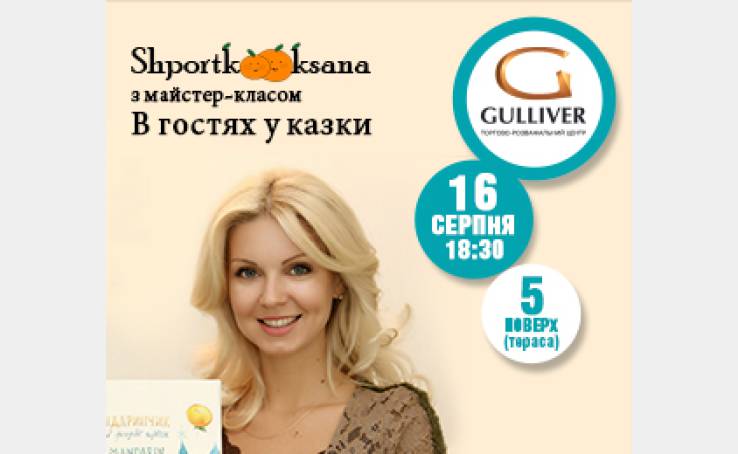 Майстер-клас Оксани Шпортько
14.08.2017 87 1 minute
Вже цієї середи – майстер-клас для діток "В гостях у казки" із Оксаною Шпортько!
Вже цієї середи – майстер-клас для діток "В гостях у казки" із Оксаною Шпортько! Він буде проходити у форматі дружньої бесіди і будуватися навколо українсько-англійського збірки казок «Мандаринчик і його рецепт щастя».Учасники майстер-класу дізнаються: ∙ для чого необхідні казки; ∙ як стати автором казок і створити власну книгу; ∙ чому казки надихають нас на найсміливіші вчинки і подорожі.Також дітки: ∙ почують захоплюючі історії героїв з книги «Мандаринчик і його рецепт щастя»; ∙ придумають свій кінець для кожної казки; ∙ візьмуть участь в розіграші книги від автора з автографом.Проводить майстер-клас письменниця, казкотерапевт дитячого центру розвитку «Мозаїка» (Східна Австралія, Перт), автор книг «" У пошуках щастя "Східні казки для дорослих та маленьких» (2008 р) і «Мандаринчик та его рецепт щастя», автор проекту «В гостях у казки» - Оксана Шпортько. Тривалість зустрічі: 60-80 хвилин. До зустрічі!
Want to say thank you to the author? Five stars and repost will be the best thank.