One-piece or two-piece swimsuit: which one to choose
One-piece swimsuits, like bikinis, are the favorites of the beach season. The designers have made sure that all tastes and preferences are satisfied: for sun lovers - a seductive Brazilian, for conquering the waves on the surf - high briefs, and for a sailing trip on a yacht - a one-piece swimsuit.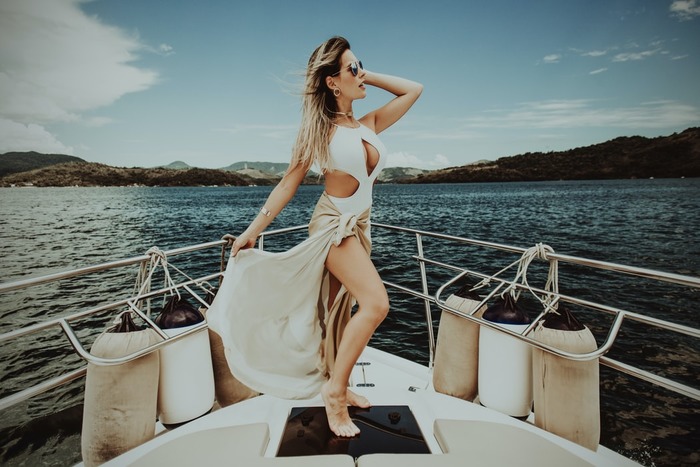 At the peak of popularity - models with an asymmetrical bodice cut (one shoulder), beach suits in a sporty style, swimwear with flirty ruffles, feminine flounces, deep cutouts and daring lacing.
The best types of fabrics for a swimsuit
Polyester, nylon and elastane are the most popular types of fabrics for beachwear. Practical materials do not irritate the skin, dry quickly, do not fade in the sun, and correct and tighten the figure. Also for the production of swimwear microfiber is used - a velvety breathable fabric, taktel - a semi-synthetic elastic material based on knitwear and lycra, as well as polyamide - a fabric with a beautiful glossy sheen.
Fashionable colors of swimwear 2020
One-piece with patterns or separate in a solid color - both options are great for a beach look. Bright optimistic palette and restrained pastel colors, black and white classics, energetic vertical and horizontal stripes, tropical flora and animal prints, bronze, graphite, gold - such a variety is impossible to resist.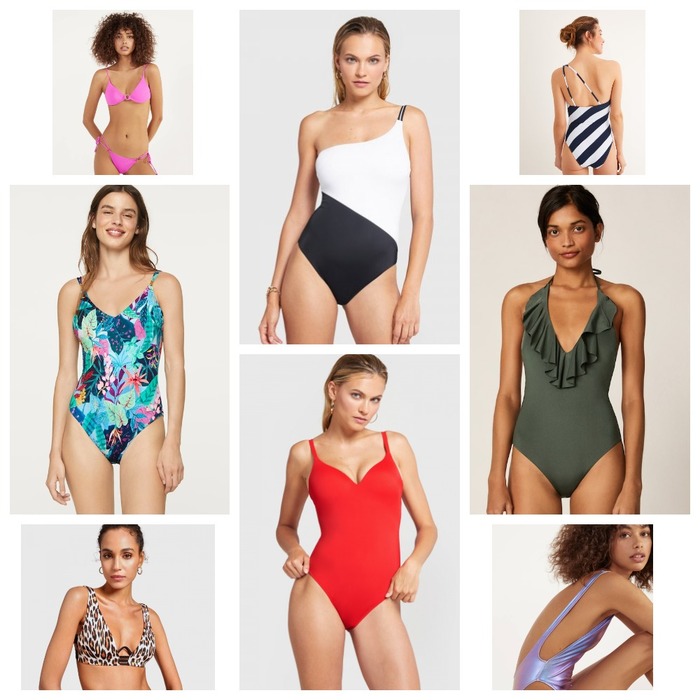 How to hide extra pounds due to the style of a swimsuit
Unlike lingerie, a swimsuit is visible to everyone. Culottes, which delicately cover the lower abdomen, will help to level the extra centimeters at the waist and hips and make them visually slimmer. Rest assured that you will look stylish and seductive in a two-piece swimsuit with high bottoms.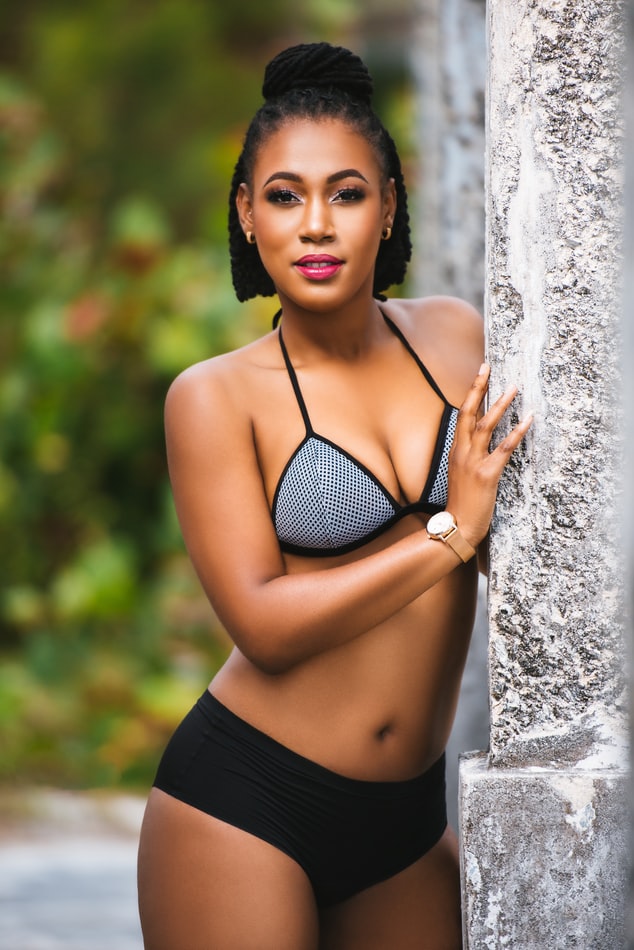 The same magic is endowed with piecework models with floral prints, vertical and oblique stripes. Thanks to the pattern, they "smooth out" problem areas, give the silhouette a fragile grace and make their owner more self-confident.
The best models of bodices for large breasts
A balconette-type bra or a bustier with wide straps will help to demonstrate the beauty of a lush bust and emphasize appetizing forms. Due to the specific shape of the dense cups, bones and chest strap (in the case of a bustier), the bodice lifts the chest, shapes the shape, ensures secure fixation and the correct position of the bust.
Swimwear models by body type
The style and color should draw the eye towards the places you are proud of and distract from problem areas. Take advantage of our tips.
For narrow shoulders and wide hips, choose a solid color bikini bottom and a draped bandeau top with ties around the neck.
For those who have radically opposite proportions (wide shoulders and narrow hips), the ideal option is a solid bodice with straps and swimming trunks with bright prints.
If the shoulders, chest, waist and hips are almost the same in width, a piece-piece swimsuit with an emphasis on the waist or a tankini model will help to visually correct the shape. Bottoms and a V-neck T-shirt can make an hourglass out of an apple shape.
For those with a boyish figure, metallic swimsuits are suitable, which, due to reflections and play of light, add additional volume to the hips and chest. Models in light colors that visually increase the silhouette will also be beneficial.
Summer 2020: swimwear for the little ones
A swimsuit for a baby is not so much fashionable clothing as an important hygiene item. Lined swimming trunks reliably protect delicate areas from sand, small shells and pebbles. This season, everything that is comfortable for the baby is fashionable. For girls, bright monokinis, bikinis with ruffles and one shoulder straps are suitable, for boys - swimming trunks made of quick-drying fabrics with cartoon characters.
Swimwear shops in the shopping center "Gulliver"
The shops of the Gulliver shopping and entertainment center, located in the Pechersky district of Kiev, invite you to shopping.
Original Marines offers a large selection of quality Italian kids' swimwear in a variety of colors and shades, including the brand's favorite palette of red, white and blue.
OYSHO will delight you with a new beach collection with models for every taste. Here you will find gold-tone bikinis, asymmetrical bodices, models in suede-effect fabric, Brazilian with braid and floral prints.
YamamaY includes solid metallic pieces, high-waisted bottoms, balconette bodices with different cup shapes, bright and glamorous bandeau with sparkling sequins, models with floral prints and other relevant patterns in the new beach collection.
Also, do not forget to visit Bershka, Women Secret, Marc & André stores and other beachwear stores in the Gulliver shopping center. And after that, leave the stuffy city, go to the sea - and let the whole world wait.