Wedding dress code
The dress code of the event depends on the format of the holiday and the wishes of the heroes of the occasion. The stylistic concept of the ceremony is prescribed in the invitation. If you don't have the right clothes, you will have to update your wardrobe with a "one-off" outfit. For example, for a social event you will need a floor-length dress, jewelry or expensive jewelry, high-heeled shoes. Do not forget about evening make-up, stylish styling and other attributes of a bow for a formal reception.
If you're attending a themed party, get ready to try on a vintage look, boho outfits, or even a fairytale look.
No dress code: current colors and styles
If the dress code is not specified, we determine the style of clothing, length and cut of the dress ourselves. A common option in which it is appropriate to come to a friend's wedding is a midi cocktail dress with fringe and sequins in the spirit of the 30s or a chiffon model in pastel colors in the style of a baby doll. Complete the look with classic pumps or shoes with an ankle strap and a clutch with a metal chain.
Asymmetrical dresses or one sleeve tops are a stylish trend that will set you apart from the crowd. An open shoulder will become the main focus of the image.
A win-win option is a metallic dress. In order not to overdo it with accessories, combine it with laconic black sandals, sleek hairstyle and jewelry without unnecessary details.
Take a closer look at clothes in nude shades, such as ivory or champagne. Pastel palette, textured fabrics and draped cuts are all the rage.
A blonde with fair skin will be adorned with a peach-colored dress. For brunettes and brown-haired women, we recommend any shades of blue (aquamarine, turquoise, sea wave).
Black remains a favorite for elegant style and is also appropriate for weddings. A dress with a laconic top and a taffeta skirt below the knee will suit a slender girl. Add bright pumps and chunky jewelry to complete the look.
Alternative to dress
Evening jumpsuit with palazzo or culottes has become a hit of several fashion seasons. Such a product creates a holistic and harmonious image, visually stretches the silhouette, and helps to correct figure flaws. An ideal complement - open sandals with thin straps.
A double-breasted oversized jacket and trousers look stylish and status. Choose wide, skinny, cropped trousers or other styles that suit you. Pair a masculine suit with flat sandals or mules.
A silk top or V-neck blouse and a pleated midi skirt are trendy this season. Finish the outfit with pointed ballet flats or classic pumps and match accessories with geometric shapes.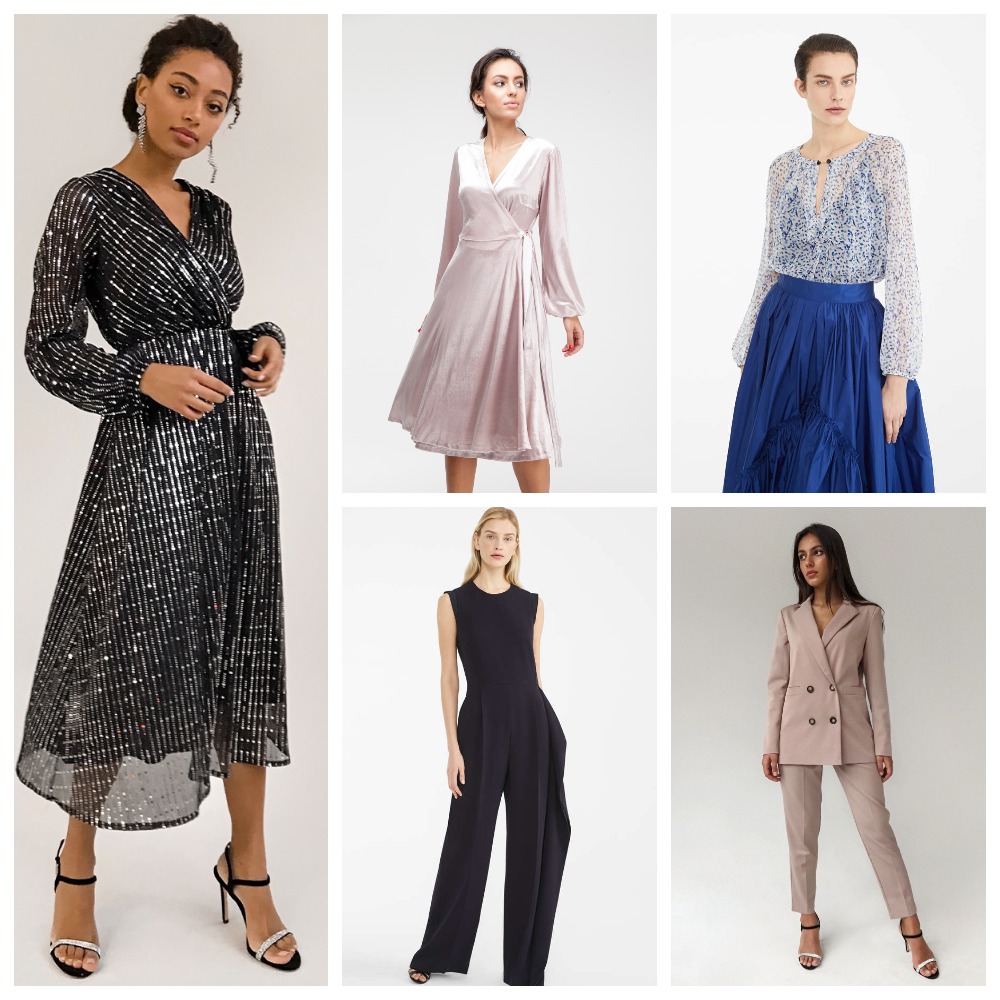 Options for autumn and winter bows
If warm and golden tones are welcome in spring and summer, then in autumn and winter, give preference to cold silver shades.
Also, the fashionable colors of autumn include ocher (brown, mustard, chocolate), dark red (burgundy, brick, wine) and "cool" shades (light gray, lilac, gray).
A winning option for cold weather is a solid-colored velvet dress with long sleeves.
If you choose an open outfit, complement it with a bolero or a cape. Nude stockings and pumps with heels will help complete the look.
Taboo for a guest at a wedding
white dress, trains and crinolines are the main anti-trend. All this distracts attention from the bride;
oversized necklines, slits and mesh tights;
shorts, tops, T-shirts, jersey clothes, flip-flops and other "beach attributes";
dresses of flashy shades, colorful or with predatory prints;
satin clothing that gives glare and can ruin memorable photos.
We select accessories
Shopping bags, travel bags and backpacks are inappropriate at the wedding. For an event, choose a small handbag on a chain, a laconic clutch or a purse with a strap for wearing on the wrist. Pay attention to vintage accessories: this style is trending now.
If the ceremony involves a wedding, you will need a scarf or shawl to cover your head during the ceremony.
Top jewelry includes brooches and geometric jewelry.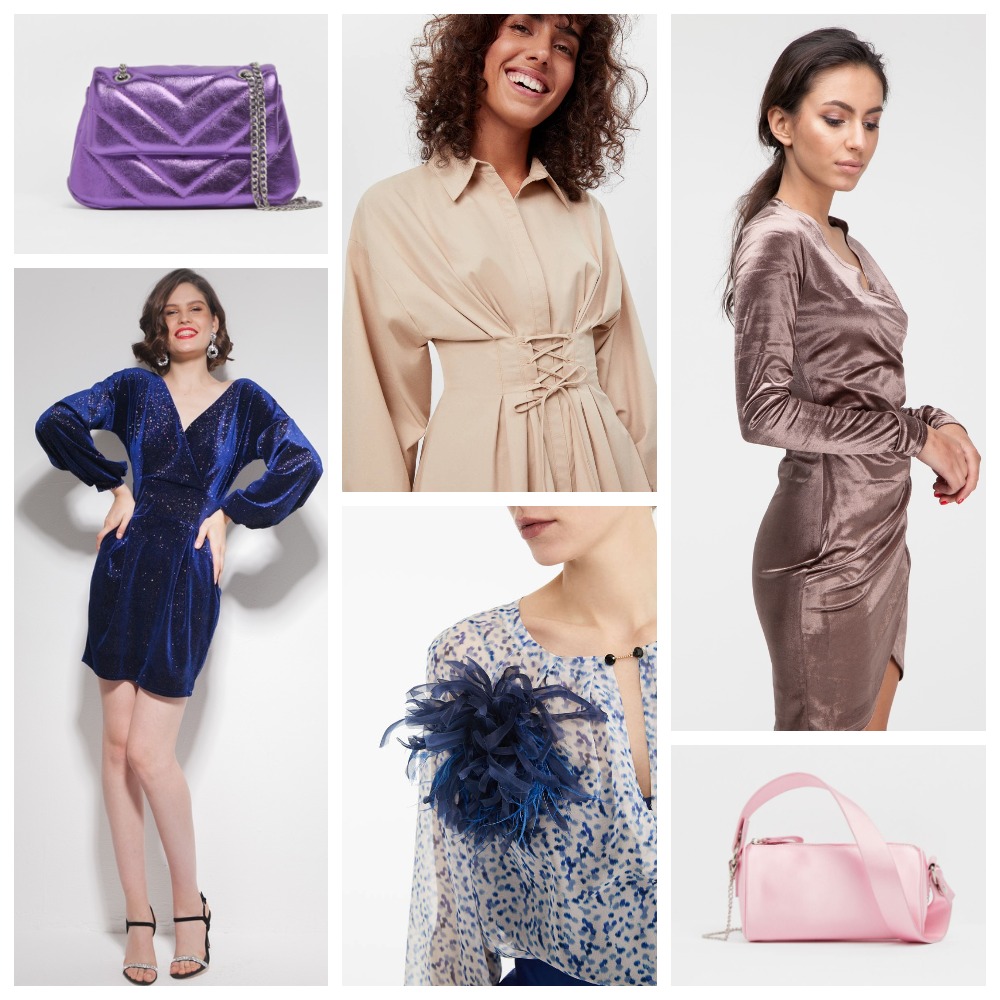 Stylish options for images in the stores of the shopping center "Gulliver"
Going for shopping in the center of Kiev, take a look at the Gulliver shopping and entertainment center, located in the Pechersky district, near the metro stations Ploshcha Lva Tolstogo, Palace of Sports and Klovskaya. The shopping center offers a wide range of stylish items, shoes and accessories for any event. We offer a list of women's clothing stores where you can easily create a successful look.
Bershka offers glittery and cocktail dresses, as well as fashion accessories and jewelry that complement the festive look.

MaxMara will delight you with sophisticated jumpsuits, options in silk taffeta and trendy models with a pleated skirt. Shop consultants will tell you what to wear for a wedding, if you are a guest, and help you make a good purchase.

THE LACE offers sleek midi dresses, oversized blouses and pantsuits. The brand's clothing from evening collections will highlight your natural beauty.
Relevant collections 2020–2021 check you in one of the most popular shopping centers in Ukraine. Pick up the image, adhere to the rules of the dress code, or do not forget about your uniqueness. Be yourself - stay in trend. & Joy.