Today, practicality and versatility have come to the fore. Ukrainian designer Andre Tan notes that the best option for this season will be cozy knitted suits for every day and elegant eco-leather sets for going out.
New classic
Artificial leather things are a slow trend that has been at the peak of popularity for several years and claims to be a new classic. The eco-leather trend is part of the sustainability philosophy. These clothes are a safe investment in your wardrobe, they are versatile in combinations and will last for several seasons. If earlier the total look from eco-leather was considered extravagant, today it fits perfectly into everyday looks. If we talk about the combination of versatility and style, then you should pay attention to a midi-length pencil skirt and an oversized shirt. We are talking about a monoluke - ideally white or black.
Comfort in the office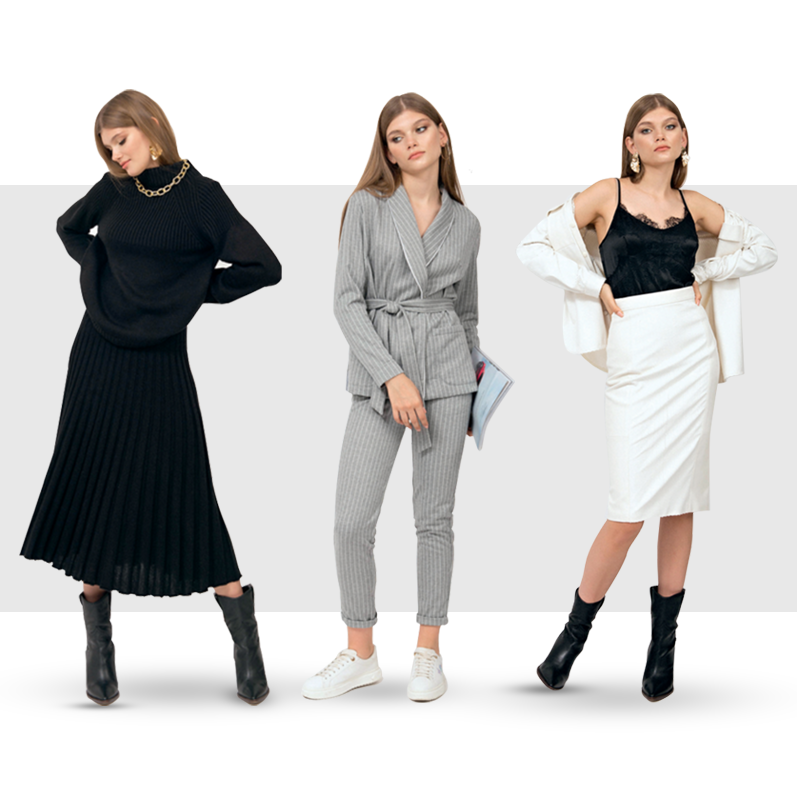 Knitted jersey sets for comfortable looks for every day have become a new must-have among suits. It's time to change your business office styles to suits that will create coziness on working days. The most popular options are two-piece top and skirt. Moreover, the ensemble does not have to be of the same texture. This season, the first place belongs to a suit from an oversized sweater and a knitted pleated midi skirt. Colors - neutral: black, white, toffee. But regarding shoes, you can fantasize: sneakers, Cossacks, ankle boots, military will do. It is better to complement the look with an oversized coat, sheepskin coat or down jacket.
A holiday in everyday life
Refusal of frills, emphasis on quality fabrics and comfortable styles - these clothes are designed to last for a long time and be appropriate in completely different situations. Therefore, the best choice is knitted trousers and a jacket, in which there is nothing revolutionary, but this is the point. More room for imagination and personal choice. With the help of accessories, you can create a mood and complement the image. It is worth relying on universal colors that are appropriate under any circumstances, which will be easily combined with other shades.