Women's Fashion: Spring 2021
In a new role
From now on, men's suits are also suitable for women. Stylists recommend purchasing a trendy set in pastel shades, as on models in the Altuzarra and Gausher collections. Oversized blazers with wide, high-waisted trousers are in trend. This will be a great option for the office, for a business meeting or for a social event.
A graceful detail
This season, designers have embellished women's wardrobe with playful collars. This detail will make the image feminine and delicate - fragile beauties defiled at the Chloe and Rokh shows. But if fragility is not about you, blouses or dresses with delicate collars can be combined with leather jackets and rough boots.
Smart sport
This spring, designers invite fashionistas to add elements of classics and glamor to a sports bow. Actual images were shown at the shows of Miu Miu and Balenciaga. Now you can safely combine sweatpants with light blouses, shirts, exquisite accessories and even high-heeled shoes.
Orange paradise
A bright juicy orange color burst into spring trends. This is a great alternative to the trendy red for those who want to stand out from the crowd. Couturiers are advised to buy an orange dress, as in the Dior collection, or a stylish orange coat or jacket, as on the models at the Burberry show.
An extraordinary approach: the main spring-summer trends for men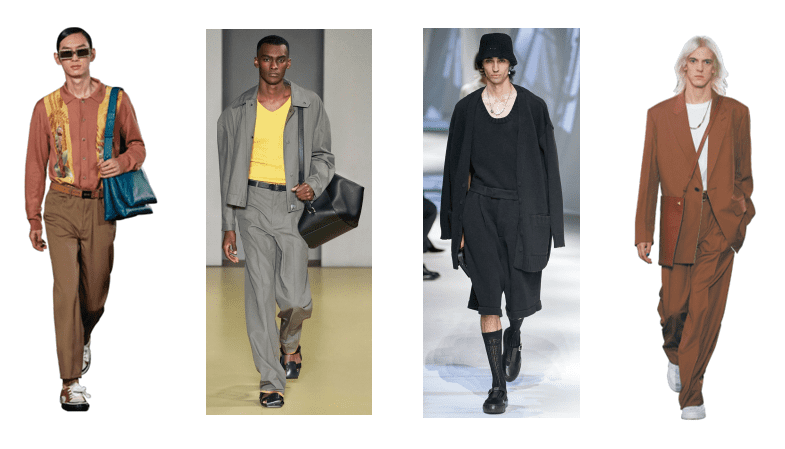 Interesting fashion trends are presented in the men's fashion of the blooming season, so everyone can choose for themselves what suits him best. Weighted and restrained, it is better to choose tayloring and knitwear, and the yellow-gray palette and the 70s are suitable for the bold and creative.
Echoes of the past
70s-inspired looks have been hitting the catwalks for several seasons in a row, and this one is no exception. The brands Gucci, Lanvin and Celine have reflected this trend quite advantageously in their collections. Bell-bottomed trousers, colorful bright shirts, colorful suits and corduroy items will become relevant this spring.
Winning combination
Neon yellow and gray have featured prominently in men's fashion weeks. Take, for example, the collections of Salvatore Ferragamo, Sandro and Dior Men. Couturiers point out that you can create stylish gray or yellow mono looks, but combining the two would be a better idea.
Stylish tayloring
Minimalist tailoring looks were presented at the Dolce & Gabbana and Versace shows. Designers advise men to choose suits in the style of the 80s: double-breasted jackets, which are better not to button up, wide, long trousers, a T-shirt instead of a shirt and classic sneakers.
Universal texture
It's time to take out cozy knitwear from the closet, because they are also present in the spring men's wardrobe. The current texture is in the collections of many designers, including Fendi, Balenciaga and MSGM. Warm sweaters with patterns and original prints, stylish cardigans are a must-have this spring.
Spring 2021 trends for the youngest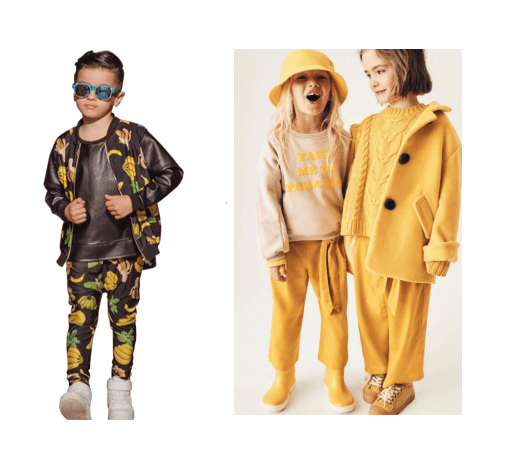 Delicious print
This spring, food prints adorned children's clothes. T-shirts, blouses with bananas, strawberries, sweets and even burgers are the best option for a spectacular childish look. In addition, original food accessories are in trend: bags, jewelry, hair ornaments.
In one palette
Mono-images captivated not only the adult wardrobe, but also the children's one. Current colors include white, gray, beige, pink, blue and brown. Restrained monochrome images are suitable for both study and celebration. The main thing is to match everything.
This spring has brought a new vision of itself for everyone. Do not hold back your fantasies, combine trends that are close to you in your bows. And for stylish novelties, go to the Gulliver shopping and entertainment center, located in Pechersk between the Leo Tolstoy and Palace of Sports metro stations. Here you can find not only men's and women's clothing, but also a huge selection of children's clothes and accessories. Gulliver shopping center is a convenient location in the center of Kiev (Ukraine).