Multimedia show for the whole family "Ukraine of the World"
From November 30, the Gulliver shopping and entertainment center opens a multimedia show for the whole family "Ukraine of the Universe". The first two weeks are free for everyone, subject to prior registration.
Thanks to virtual reality technology - 360° projection, kinetic installations and sound effects - the audience will be completely immersed in a cosmic and symbolic world, in which the history of Ukraine will be revealed in a new way.
Using the example of significant events, we will tell how the main features of Ukrainians were imprinted - openness, wisdom and cordiality. And how these features combined into our uniqueness - SOPHIA.
You will learn about the sacred significance of Sophia of Kyiv and the achievements of outstanding Ukrainians, such as: the "noosphere" of the scientist Volodymyr Vernadskyi, the revolutionary invention of Mykola Amosov - the heart valve, and much more.
In addition, in parallel with the video sessions, guests will be able to visit the "Gardens of Sophia" exhibition dedicated to the project, a fair with stylized merch from Ukrainian manufacturers, and on weekends - thematic master classes in pottery, mosaics, etc.
Shows will take place every day from 12:00 to 19:00 on the 4th floor of the Gulliver shopping center.
The project was implemented with the support of the Small Academy of Sciences of Ukraine, the "Postup-14" community of patrons, the school of thought development Cowo.guru and the Ukrainian brand Poustovit.
Importantly! In the event of a centralized power outage, Gulliver shopping center continues to operate in the usual mode from backup power.
Sessions will be rescheduled in the event of an air alert. For the safety of visitors, a shelter is provided on the territory of the complex, which is located in the parking lot R-1 of the shopping center. The safe place is basically equipped with a sufficient number of places to sit, drinking water, a first-aid kit, and there is a toilet nearby. Once again, we urge you not to ignore the alarm and be sure to go down to the shelter.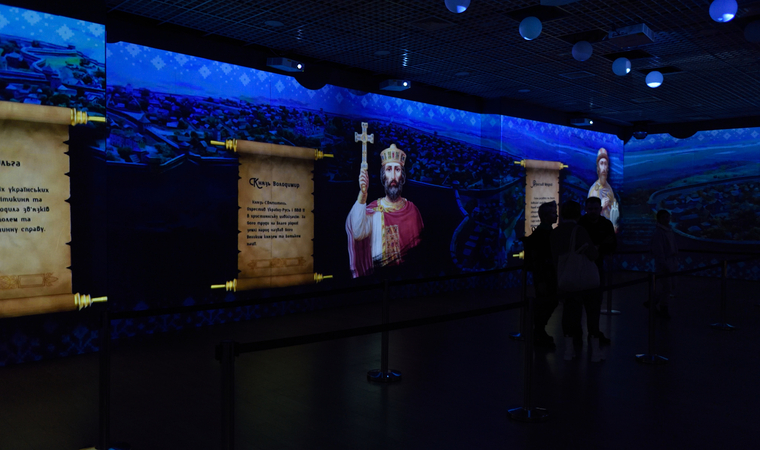 Photo of the multimedia show "Ukraine of the Universe"
Опис